Let's say you're an alien who just landed on Earth, and you happen to enjoy quality episodic storytelling. All you hold in your TV-loving tentacle is a laptop or an Internet-connected TV, and your first purchase is a subscription to Netflix.
What do you watch first? Aha, you're in luck! I would really love to help you with that selection process.
I've got three lists for you: Must-Watches, Pretty Good Bets and Overlooked Gems. The Must-Watches are listed below, and the other two rosters will be posted in the next few days. And depending on the responses to these lists, we may post some reader recommendations one of these days.
The idea for these posts — which are not just for E.T.s, as I'm sure you deduced — came in part from this recent essay by Anne Helen Petersen, who noted that, for many of the college students she teaches, if a show isn't on Netflix, it doesn't exist. "As far as I can tell, the general sentiment goes something like this: if it's not on Netflix, why bother?" Petersen wrote.
The idea of budding TV fans' ignorance of the existence of "Deadwood" struck fear in my heart (though I can report anecdotally that I've talked to many college students who are avid users of their families' HBO Go accounts, which reduces my panic regarding general Al Swearengen literacy).
In any case, I think Petersen is on to something, and I don't think this trend is anything to be alarmed about. A lot of people these days don't have a cable connection, or find Netflix ultra-convenient even if they do have cable or satellite, or prefer to wait until an entire show is available to them before plunging in. I myself have fallen down Netflix rabbit holes on many occasions; I use it all the time for research, for fun and to introduce friends and family to shows I love. My gut tells me the convenience of Netflix allows many people to experience things they might not have tried otherwise. And as someone whose job is evangelizing about TV shows (some of them unjustly overlooked), that's exciting.
So following from Petersen's essay, this is my attempt to throw a few ideas in the direction of people who are occasionally bewildered by Netflix's growing array of TV offerings. These aren't exhaustive, they're just ideas to help viewers prioritize what to watch. A few short, sweet caveats first:
These lists reflect my taste, which is of course impeccable. Kidding. Or am I?! Seriously, these are how I'd classify the several dozen shows on my three lists, and I accept that not everyone would slot these shows into these categories. No worries, they're just meant as general guidelines (though it's Pistols At Dawn if you try to talk me out of moving "Battlestar Galactica" from the Must-Watch list).
These lists do not contain shows currently in production, on the air or otherwise uncanceled. So no "Mad Men," "The Venture Bros." or "Supernatural." Before you yell at me in comments about something that isn't included, remember: Two more lists are yet to come, but if a show is still creating new episodes or will do so in the near future, it won't be found on any of them.
The shows on this list are available on Netflix in full, with a couple of exceptions here and there. But those exceptions are very rare, and I tried hard to stick with shows available in their entirety.
I'm not counting Netflix's own shows in the mix. No "Arrested Development," "Orange Is the New Black," "House of Cards," etc.
You'll only find scripted programs on these lists. There are fine documentaries and reality shows on Netflix, but I'm sticking with fictional, episodic TV for the purposes of these rosters.
Remember, this isn't a list of all shows worth watching (that would be much longer), it's just a selection from what's available right now on Netflix. If it's not on Netflix (again, preferably in its entirety), it's not on the lists.
Final caveat: Netflix's lineup changes from time to time, and its offerings vary by country, so these lists are not set in stone and may contain shows that are unavailable where you live.
This first list is a selection of shows you simply must watch, for they contain greatness. This isn't your chance to fill the comment section with observations about how "Show X" had some not-good episodes — everybody in the world, including those who worked on that show, will admit that. No show is perfect, but these shows contain rapturous moments, sensational acting and indelible images. They had something to say about human nature, the mystery of existence and the meaning of life, and at their best, they did so in entertaining, exciting and thought-provoking ways.
If you just got a Netflix membership or have had one for a while and want to make sure you've seen The Big Ones, this is where you should start.
"Battlestar Galactica"
Even if you've watched the saga of the rag-tag fleet before, watch it again, if only to appreciate the show's willingness to embrace a conflicting array of uncomfortable truths and go for both the political and personal jugular. It was an allegory for post 9/11 America, an epic adventure, a difficult saga of sacrifice and redemption, a showcase for some of the finest acting television has ever seen, and it had one of the greatest soundtracks ever. (And as you watch, don't forget the TV movie "Battlestar Galactica: Razor.")
"Breaking Bad"
If you haven't caught up with this taut, canny drama yet, I truly envy you. Warning: Gorging on dozens of episodes at a time may warp your brain. But just like a meth addict, you probably won't be able to stop yourself. (The second half of "Breaking Bad's" final season isn't on Netflix yet, but a spokesperson said it will arrive eventually, though a date was not supplied.)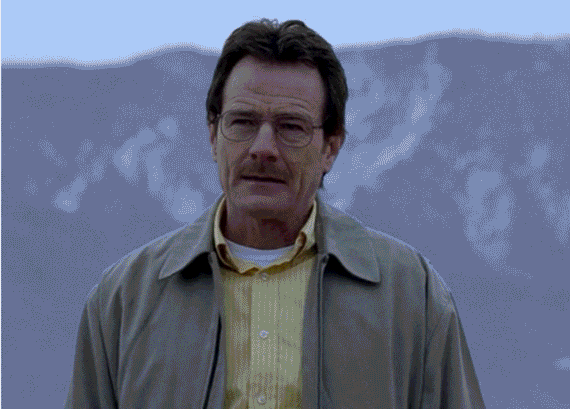 "Buffy the Vampire Slayer"
Not many people saw the Velvet Underground live or bought their records when they were released, but many of those who saw the band had their brains melted and went on to create the next few waves of influential art and music. "Buffy," which was low-rated during its run, is the Velvet Underground of TV shows: Dozens of the most able writer/producers working in TV today either worked on one of Joss Whedon's shows or were deeply influenced by them, and Buffy Summers' legacy is still evident all over the television landscape. Also, there's a musical!
"Cheers"
If you're an aspiring comedy writer, here's an idea: Just sit down and watch this show, which, week after week, presented a master class in timing, plot and character. Bonus: If you're not an aspiring TV writer, you can just watch it for kicks. And you should.
"Firefly"
How else do people go about starting a Summer Glau fixation? This is one of the shining stars of the Whedon canon, and one of the best things about watching (or re-watching) the tale of Mal and his pals is that you can git 'er done in one weekend (with the movie "Serenity" as a chaser, of course).
"Freaks and Geeks"
Don't watch this just because everybody associated with it — the entire cast, as well as executive producers Judd Apatow and Paul Feig — went on to greater fame and higher-profile gigs. Watch it because it's a fantastically funny and compassionate look at the weirdness and confusion of adolescence. (Also worth a look: Apatow's subsequent show, "Undeclared," which is also on Netflix.)
"Friday Night Lights"
Did you know that this drama was scientifically engineered in a storytelling superlab to make you cry? It's true. In the stories of small-town heartache, in the hopes and dreams of athletes and strippers and coaches and an indelible array of regular people, "Friday Night Lights" found so much magic that everyone is willing to forgive some unfortunate business in Season 2.
"Lost"
"I am big. It's the pictures that got small," Norma Desmond famously said in "Sunset Boulevard." But the quote applies to most broadcast network TV these days: In trying safely to appease every demographic, it's become ever more timid. So often what we see on the so-called "big" networks looks and feels small. Say what you want about "Lost" — and just about everything that can be said about it has been breathlessly expressed in one of 7 billion island-related blog posts — it's big. It started off with an ambitious, weird, cinematic idea and it just kept getting weirder, yet it always hung on to its heart and its belief in the redemptive power of community.
"The Office" (U.K. version)
Many episodes of the U.S. version of "The Office" are also worth your time (and it will appear on the Pretty Good Bets list), but the original U.K. version deserves to be here, because its entire run (including the wrap-up Christmas special) is brilliantly conceived and executed. It inspired many waves of cringe-inducing comedy and it began the vogue for on-camera confessionals in scripted comedies. It also gave us a great love story and a believably boorish, clueless, guileless main character, who was "a friend first, and a boss second, probably an entertainer third."
"Prime Suspect" (U.K.)
You might think you really can't watch one more story about one more troubled cop on the edge, but you should watch this one. Helen Mirren is transfixing as London detective Jane Tennison, one of the most interesting and complicated women ever to grace the small screen. (Note: The last of the seven "Prime Suspect" seasons is not on Netflix, but that should not detract in any meaningful way from your enjoyment of the other six outings, which are actually miniseries of varying length.)
"Twin Peaks"
What is this? Twenty-three years after its debut, people are still asking that question, and isn't that a beautiful thing? "Twin Peaks" is sort of a murder mystery, it's occasionally about the weird things that happen in a small town, but ultimately its purpose and meanings are obscure and enigmatic — which is not a complaint, by the way. No show before — or since — has done a better job of creating a freaky atmosphere that gets under your skin.
Note: In a few days, expect to see lists of Netflix's Pretty Good Bets and Overlooked Gems. If you have a suggestion for the reader recommendation list, please leave the name of the TV show in the comments below, along with a sentence or two on why you think people should watch it. Thanks!